Untie The Strong Woman, Audio Series, Part I
LIVE ONLINE EVENT, MARCH 23 and MARCH 30
7-9 pm MST for Untie The Strong Woman, Audio Series, Part II, with Dr. Clarissa Pinkola Estés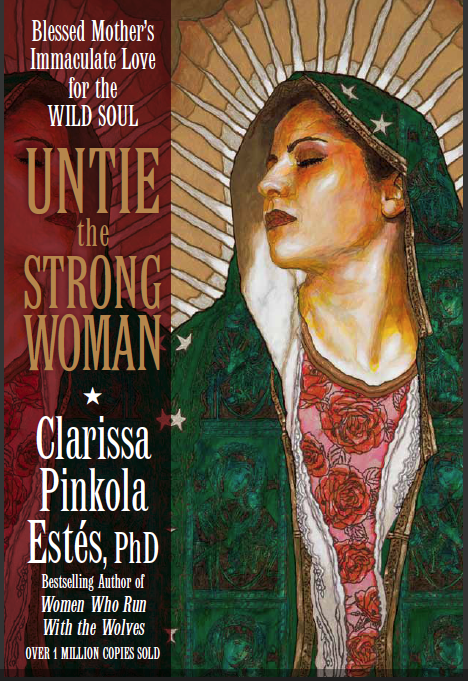 Part II was broadcast in a live worldwide online event over two weeks' time, beginning March 23rd & 30th, 2011, 7-9 MST with time for live online questions and answer session.

Untie the Strong Woman: A Celebration of the Blessed Mother
Recorded to honor the feast day of Guadalupe
Buy Digital Download at SoundsTrue.com

Untie the Strong Woman
Online Event (Digital Download: Two Sessions)
Untie the Strong Woman, Part 2
Download the direct-to-digital version at SoundsTrue.com

"The Blessed Mother appears to us in many guises and disguises. No matter what visage, no matter what part of the world, she comes to us in our need with irresistible strength and inexhaustible love." Dr. CPE

Join Dr. Clarissa Pinkola Estés for the second part of the Untie the Strong Woman series—two more unforgettable evenings of stories, prayers, and blessings. Can't make a live session? Audio from live sessions will be available for download a few days after the session concludes.

"There is a promise Holy Mother, Our Lady makes to us," explains Dr. Estés, "that any soul needing comfort, vision, guidance, or strength can cry out to her, flee to her protection, and thus, Blessed Mother will immediately arrive with veils flying. She will place us under her mantle for refuge, and give us that one thing the world so longs toward: the warmth of The Mother's most compassionate touch, and strong guidance about how to and which way to go, by the soul's lights."

In this live online event, Dr. Estés invites you to encounter the force of Immaculate Love—so that your memory of her is renewed, or else knowledge of her miraculous, fierce, enduring ways is drawn into your heart for the very first time.

Join Dr. Estés to celebrate this universal force that invites us to see, to forgive, to be bold, to love, to read signs, to listen to angels.